[vc_row][vc_column][vc_column_text]If you prefer a more relaxed pace for your holiday on the Costa Dorada then Cambrils, Tarragona is the ideal town for you. Lying just 7 km south of the town of Salou this traditional fishing village and beach resort is a firm favourite with both Spanish and foreign visitors.
The bustling town sits astride a scenic fishing port and panoramic harbour. Surrounding the harbour is an array of excellent local restaurants serving fresh catch of the day in traditional styles. You can spend an evening enjoying the best of local cuisine with a glass of local cava watching the soft red and pink hues become rich golds and bright orange as the sun sets behind the tranquil harbour.[/vc_column_text][/vc_column][/vc_row][vc_row][vc_column] [/vc_column][/vc_row][vc_row][vc_column][vc_column_text]
The town of Cambrils
The town itself is a compact mix of local shops, tourist outlets and eateries.  The pace of life is more laid back here compared to the hustle and bustle of the main resort of Salou.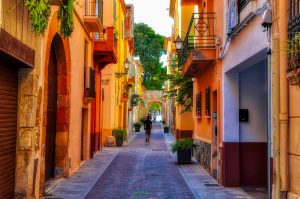 Pass the morning sitting outside one of the many local cafes enjoying a cafe con leche with a fresh croissant and watch the world stroll by.
Though the town vibe is more easy going that's not to say that there is little to do, in fact you will be delighted to find that there is a great deal on offer to combat those blazing hot summer days.  If you head down to the Estacio Nautica, located in the harbour, then you will find a wide range of water activities such as fishing, tuna tour, snorkeling and diving. For all The Little Mermaid Ariel fans one of the most amazing options you can do is become a mermaid or merman. The helpful staff at Estacio Nautica are on hand to help you find the best activities for your group.
Cambrils beach
Cambrils beaches are 9 kilometers of golden sand gently sloping into calm and shallow waters of the Mediterranean Sea.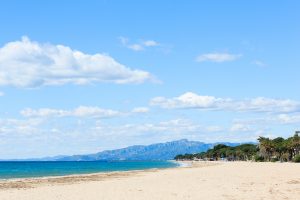 All the beaches fly the Blue Flag for cleanliness and services. For those who love a walk by the seafront the entire promenade of Cambrils is pedestrianized. Perfect for an early morning run or a family cycle.
There are 2 weekly local markets in Cambrils. On Wednesdays you will find the general market while an antiques market is held on Saturdays. Both markets are held in the "Casco Antiguo" or Old Town. If you would like to visit the main resort of Salou then just follow the seafront north or hop on one of the local Plana buses that run up and down the seafront.
A Spanish favorite
The Spanish are passionate about their holidays and there is a very good reason why many of them choose Cambrils as their destination. This little fishing port is an eclectic mix of good food, good fun and great relaxation. On first arrival you are hooked and you will understand why it is treasured by locals and Europeans alike.[/vc_column_text][/vc_column][/vc_row]