[vc_row][vc_column][vc_column_text]
SALOU
Sitting 14 kilometers south of the ancient city of Tarragona is the stunning seaside resort of Salou. Due to its meditteranean climate of hot summers and mild winters, the town is loved by European and Russian holiday makers alike and maybe even more by expats and certainly by locals.
The town sits beside a beautifully long golden sandy coastline. The golden colour of the beaches is actually how the Costa Dorada got its name, as it means golden coast in Spanish. The area forms part of the Catalonia community coastline which runs from Tarragona all the way through its famous neighbour Barcelona and Girona where Catalonia meets the French border. Located only about 100 km. south of Barcelona, the transfer options from Barcelona to Salou are numerous.[/vc_column_text] [vc_column_text]
Several great beaches in Salou
The stunning coastline is divided into different sections. The two biggest beaches are called Llevante and Ponent. In between the two beaches lies the harbour which offers a range of watersports for your holiday in Salou. Furthermore you will find several theme parks in the area so there is no reason to feel bored on your holiday.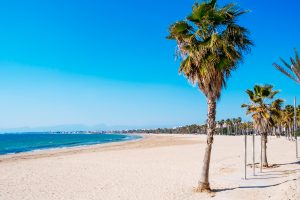 All beaches offer a wide variety of facilities. Llevante and Ponent beaches have both been awarded the Q flag for Quality for their facilities by the Spanish Institute of Tourism Quality (ICTE). Services range from parking and public toilets to kids club and a children's playground, most importantly lifeguards.
While Llevante and Ponent are the two largest beaches, the crystal waters of Capellans and Llenguadets are linked by a beautiful coastal walkway which offers stunning views of the glorious Spanish sunset. The other beaches vary in size and together the beaches on the Costa Dorada offer something for everyone from snorkeling and watersports to nature walks surrounded by natural vegetation. All the beaches have been awarded the ISO 14001 Environmental Certification, which is based on the towns ́ commitment to maintaining the local environment, therefore you can expect great beaches on your holiday.
The history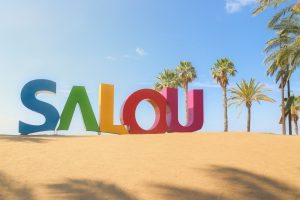 Discovered by the Greeks and Romans, Salou in Cataluyna has had a varied history. Originally it was called Salauris which was shortened to Salau and then commonly called Salou. Before it became a spectacular holiday destination it was famous as the starting point of the Spanish King James I successful conquest of the Balearic Islands. Now it is better known as a much favoured summer holiday destination.
Several different accommodation options.
No matter if you prefer Airbnb, hotel or camping, Salou offers all possibilities. Therefore your holiday can match your holiday budget. No matter if you have saved a big amount together or just going away on a cheap holiday.
This certainly also applies to the restaurants in the city as well. Here you will find a really wide selection, both in terms of budget and the type of food served. As a result, you will certainly find something to please everyone on holiday. Furthermore you will find a large and exciting selection of pubs, bars, cafes and clubs. Serving everything from the Spanish specialty Sangria, local beers and delicious cocktails with and without alcohol.[/vc_column_text][/vc_column][/vc_row]