Introduction:
Travelling to a new place can be a wonderful experience, but there's something truly special about getting to explore it like a local. That's why the team at Costa Dorada travel blog decided to seek out the insights of people who have lived in the region for an extensive period of time. These locals will share their knowledge, offering insider tips and highlighting some of the lesser-known gems of the region. In this interview, we'll be chatting with Clara, a British expat who has lived in the area for 14 years and worked as a customer helper for 5 years. Clara will provide insider tips, recommend lesser-known spots to visit, and share her favorite things about living in the Costa Dorada region. So, if you're planning a trip to this beautiful region, read on to discover Clara's insights and make the most of your visit!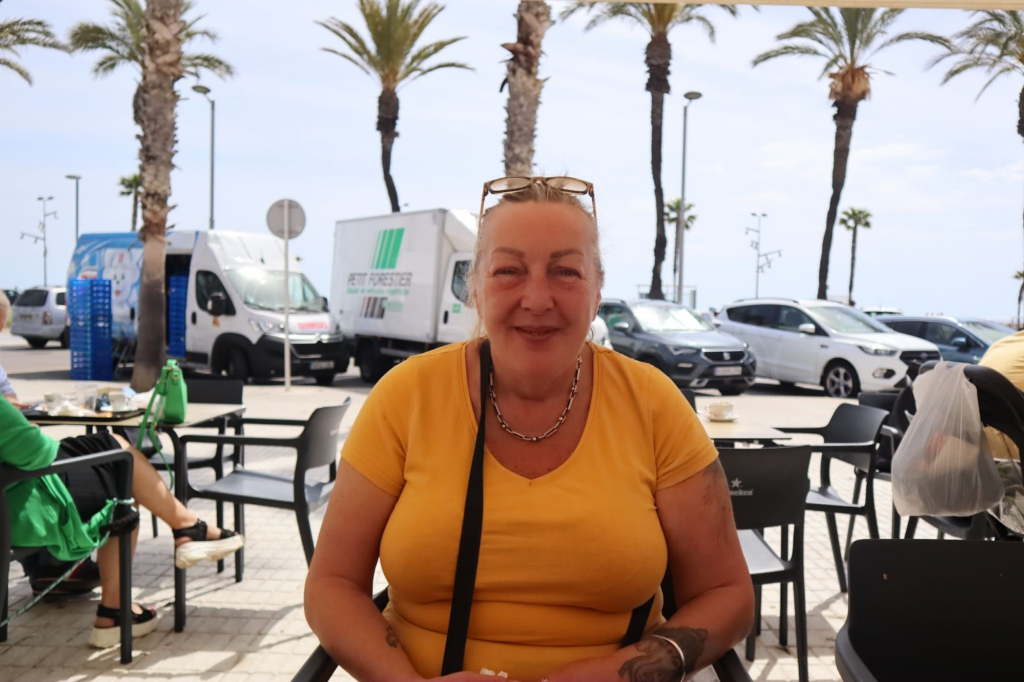 Picture of Clara
Meet Clara, a 64-year-old British woman from Birmingham who took a sabbatical to learn Spanish and better herself. Clara rented her house, bought an old caravan and car, and drove to France and then to Salou in Spain, where she wanted to work and learn Spanish. She lived on a campsite and found the Spanish people welcoming, even though she could not speak Spanish. She only had a dictionary, but still managed to communicate with the Spanish people. Clara ended up getting a job washing dishes, earning less than in England but with fewer responsibilities. She liked the job because it was less stressful than her previous university job in England, where she had to work a lot of hours and take work home for the weekends. After nine months in Salou, Clara decided to stay and worked various jobs, including owning a successful bar that she eventually sold when the holiday industry began offering all-inclusive packages in hotels. She then started driving jeeps for a jeep safari, became a team leader, and loved the job, but she realized it was becoming too hard as she got older. Clara applied for a job with a British holiday company that has an office in Salou, where she still works. Clara says she loves living in Spain, she loves the food, the proximity to the sea and mountains, and being surrounded by greenery. She thinks she has a great job and great relationships with people in her apartment complex and can see herself growing old in Spain.
Clara's Recommendations:
Hotels in Salou and Cap Salou:
As a customer helper, Clara has visited many hotels in Salou. For couples with children, Clara recommends Dorado Palace in Salou, which has a nice splash park for kids and good food. She also recommends H10 Mediterranean Village in Cap Salou, which has a big splash park for kids. Furthermore, Clara recommends Hotel Belvedere for families with younger children. She also recommends H10 Salauris Palace. Medplaya Hotel Calypso is also great for families with children, as it has great entertainment options and a good all-inclusive package. For adults only, Clara recommends H10 Delfin, a beautiful hotel, and Hotel Olympus Palace, which is also beautiful. Hotel Olympus Palace has a rooftop pool and bar. For adults only Clara recommends Hotel Blaumar. The last hotel Clara recommends for adults is the Hotel Las Vegas. All the hotel mentioned are in Salou except H10 Mediterranean Village which is located in Cap Salou.
Restaurants in Salou:
Clara recommends Hollandaluz for both traditional Spanish and international food. For traditional Spanish food, she recommends El Rinconcito De Manel, which is a bar that serves small portions of food. Petit Bar is a good option for traditional tapas. The place is a little pricy, but the food is great. Oliver's Restaurant in Salou serves international food for visitors looking for a more diverse cuisine. Fu Lin is a budget option, serving Chinese food and a daily menu. If visitors are looking for traditional English food, Clara recommends the Guinness Tavern.
Transport around the Costa Dorada region:
For those looking to get around the area, Clara suggests buying a T10 bus pass, which can be purchased at the bus station in Tarragona or at local tobacco shops. The card offers ten trips that you can use and even share with your family members, making it a convenient and cost-effective option. Even if you plan to stay in the region for an extended period, you can still add more trips to your T10 card as needed. Clara recommends buying the cards as a single ticket costs 2.50 euros, but for a single trip with a T10 card, it costs 1.60 euros. Visitors must be aware that the single ticket is only valid for one journey with the bus. Additionally, you cannot pay with a credit card on the bus, and the driver may not have a lot of change, so it is important to have the exact fare ready. Clara also recommends using the bus system to visit nearby towns such as Tarragona, Reus, and Cambrils, as it is a convenient and cost-effective way to explore the area.
Best time to visit Salou:
The best time to visit Salou is during the spring and autumn months, according to Clara. She advises against visiting during the summer months due to high temperatures and humidity, which can be uncomfortable for some visitors, especially those from northern Europe who are not used to high temperatures. August is peak tourist season, and the area can become crowded with tourists, making it difficult to find parking and a good spot at the beach.
When asked about how to avoid crowds and tourist traps, Clara suggests being brave and exploring. She recommends avoiding the end of July and August as these months are peak vacation time for both the French and Spanish, resulting in large crowds and scarce parking. Clara emphasizes the importance of research and encourages visitors to get a map and explore side streets to discover hidden gems. She suggests that visitors can easily find what they want to do by researching the area they are coming to.
Beaches in Salou:
Clara recommends a couple of beaches for visitors to explore during their stay in the area. One of her favorites is Playa Llarga, located in Salou. This beach is known for its safety, with calm waters and a shallow depth, making it perfect for families with young children. For those looking to escape the crowds of Salou's main beach, Clara suggests walking to Playa Llarga. While there are not many facilities available, the gradual slope of the beach makes for a pleasant experience. If visitors are willing to drive a bit further, Clara also recommends a nudist beach located in L'Hospitalet, though she herself does not partake in the practice. The beach is located in the town of Hospitalet de l'Infant and is called Playa El Torn Naturist Beach. It is located 25 km from Salou, which takes around 25 minutes by car.
Local festivals in the Costa Dorada region:
Three Kings Day:
Clara recommends that visitors attend the Three Kings celebration, which takes place on the 6th of January. The festival commemorates the day when the three kings visited Baby Jesus and brought gifts to him. Clara suggests that this festival is similar to Christmas, but with more emphasis on January 6th. People in Cambrils and Salou celebrate this festival by watching the three kings come through, usually on horses or a big display on the back of a tractor.
Cós Blanc:
The next festival Clara recommends is Cós Blanc, which takes place on the first weekend of February in Salou. This festival is a big street party with music, confetti, floats, and a lively atmosphere. There are big sound systems all along the streets and cannons blowing confetti into the air, and people throwing confetti and sweets at each other. It's a family-friendly event, and there are even tents with techno music for adults.
San Juan:
The third festival Clara recommends is San Juan, which takes place on June 23rd, the day of the summer solstice. This is another big party, with fireworks and picnics on the beach. There is a big stage set up in Salou where famous Spanish groups sometimes attends to play their music. The festival ends with a massive firework show at midnight and a ritual where people run into the sea and wash off the badness.
Final travel tips for visiting:
Clara emphasizes the importance of researching the places people want to visit in order to get the most out of their holiday. Depending on one's preferences, Salou can be a great place to use as a base. If tourists want to relax and spend the day at the beach, Salou is perfect for this. On the other hand, if they want to explore the greenery and historical sites, they can easily access many exciting places like Tarragona, Siurana, and Miravet, all within an hour's drive. Clara also highlights the convenience of traveling to Salou, as it only takes an hour by bus from Barcelona airport and just 30 minutes from Reus airport.