[vc_row][vc_column][vc_column_text]If you were to travel along the Costa Dorada from Tarragona city to Salou in search of a welcome spot for a day at the beach then the first resort you would arrive at is La Pineda. Named after the numerous pine trees – Pineda meaning pine grove in Catalan – the coastal area of La Pineda and Vila-Seca is an interesting mix of summer haven and coastal preservation.[/vc_column_text] [vc_column_text]
La Pineda beach is perfect for familys
Flying the Blue Flag for environmental and safety values since 1999 the beach is a 3300m long and 40m wide family delight. The golden sands slope gently to the shallow and calm waters of the Mediterrenean Sea for a cooling dip during those sizzling hot Costa Dorada summers. Absolutely ideal for laying out in the sun, children playing on the strand, building sand castles and having a family seaside picnic.
A lot to do in La Pineda
The seafront is well laid out with a huge big open area facing onto the sea. The promenade is wide and has several access points down onto the beach for people with reduced mobility. There are public toilets, showers, lifeguard service and sunbed rental, everything you need to have a great day at the beach.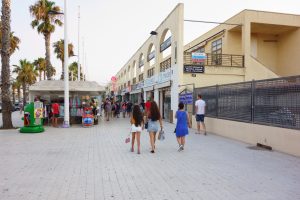 If you are looking to get something to eat and drink or fancy a spot of tourist shopping then just cross the pedestrian crossings to reach the strip. Here you will find a wide variety of shops, bars, ice cream parlours and restaurants. If you need a break from the heat of the sun then there are a couple of places to get some welcome shade. You will find an arcade on the upper side of the strip with a number of family friendly games to pass a couple of enjoyable hours . Halfway up the strip you will find the entrance to another local attraction Aquapolis waterpark with its water slides, wave pools and relaxation areas a delightful alternative to the beach.
History and art i La Pineda
As you make your way through the resort area you will pass a number of historic buildings and iconic structures. The one that immediately catches you eye is the huge steel structure that sits at the top end of the strip. These are in fact pine trees made with steel and copper. There are 4 of them "growing" in front of the strip while another 4 are set on Paseo Pau Casal. This installation was created by famous Valencian artist Xavier Mariscal who also created Cobi and Petra the official mascots for the 1992 Summer Olympics and Paralympics which were hosted in Barcelona.[/vc_column_text][/vc_column][/vc_row]