[vc_row][vc_column][vc_column_text]Sitting 30 minutes north from the resort of Salou in the Costa Dorada and sharing the name of the province for which it is the main city Tarragona is a wealth of culture, history and beauty. Discovered by the Romans around 200 years before the founding of its more famous neighbour Barcelona, this is a city whose story is well worth discovering.
When it comes to tourism Tarragona is a travellers paradise of diversity and adventure. Developed beside the Mediterranean Sea with a large port and 13km of fine golden white coastline with several beautiful Blue Flag beaches, it's obvious why the Romans made this their Iberian capital when they landed here back in the 5th century BC.[/vc_column_text]

When to Visit Costa Dorada: A Guide to the Best Time for Tourists

If you're planning a trip to Costa Dorada, Spain, you're probably wondering when the best time to visit is. With its gorgeous beaches, lively towns, and mouth-watering cuisine, Costa Dorada is a top destination for tourists. In this guide, we'll help you plan your trip by sharing information about the weather, tourist seasons, and attractions in La Pineda and Salou.

Costa Dorada Weather: When to Go

Costa Dorada has a sunny Mediterranean climate, meaning it's warm for most of the year. If you're looking for a beach vacation, the summer months of June through August are perfect for swimming, sunbathing, and water sports. During this time, temperatures range from 25°C to 30°C. Just be prepared for large crowds and higher prices during this peak tourist season.

For milder weather and fewer crowds, visit Costa Dorada during the spring months of March through May, or the fall months of September through November. During these times, temperatures range from 15°C to 25°C, making it ideal for outdoor activities such as hiking and cycling.

La Pineda and Salou Tourist Seasons

La Pineda and Salou are two of the most popular tourist destinations in Costa Dorada, so it's important to plan your visit according to the tourist seasons. The high season is from June through September, when attractions and beaches are packed with tourists, and prices are at their highest. If you visit during this time, be sure to book your accommodation and activities in advance to avoid disappointment.

The low season, from March through May and from October through November, offers a great balance between mild weather, fewer crowds, and more affordable prices. During this time, you can enjoy outdoor activities such as hiking, cycling, and visiting the many parks and gardens in the region. Some popular attractions, such as PortAventura World and Aquopolis Water Park, are open during this time, but with reduced hours and fewer visitors.

La Pineda and Salou Openings

Most of the attractions in La Pineda and Salou are open year-round, with the exception of some water parks and theme parks, which may close during the low tourist season. It's always best to check the opening hours and schedules of the attractions you're interested in before you plan your trip. Additionally, many restaurants and shops may have reduced opening hours during the low tourist season, so plan accordingly.

Activities During High and Low Seasons

During the high tourist season, La Pineda and Salou are bustling with visitors from all over the world. In addition to sunbathing and swimming, tourists can enjoy water sports such as parasailing, jet skiing, and banana boating. Theme parks and water parks such as PortAventura World and Aquopolis Water Park are also open and offer a range of rides and attractions for all ages.

During the low tourist season, La Pineda and Salou offer a more relaxed and peaceful experience. The beaches are less crowded, making it perfect for a peaceful stroll, and the streets are less busy. The nearby towns and villages offer plenty of cultural experiences, such as visiting the Tarragona Roman ruins, seeing the Reus modernist architecture, or the wine country of Priorat. In addition, outdoor enthusiasts can enjoy hiking and cycling in the nearby mountains or exploring the Ebro Delta Natural Park. The low season also offers a great opportunity to immerse yourself in the local culture and cuisine by visiting local markets, trying traditional dishes, and attending local festivals. Overall, visiting Costa Dorada during the low season can be a great way to experience the best of what the region has to offer in a more relaxed and affordable setting.

In conclusion, Costa Dorada is a fantastic destination for tourists looking for a beach vacation, outdoor activities, and cultural experiences. The best time to visit depends on your preferences, but generally, the summer months of June through August offer the warmest weather and plenty of water activities, while the spring and fall months of March through May and September through November provide milder weather, fewer crowds, and more affordable prices. La Pineda and Salou, the two most popular tourist destinations in the region, have different tourist seasons, so it's important to plan accordingly. Regardless of when you visit, there are plenty of attractions and activities to enjoy, from theme parks and water parks to historical sites and cultural experiences.

[vc_column_text]
The Tárraco Tren in Tarragona
Travelling by Tárraco Tren around the city you will see many of the structures built by the Romans. A must visit is the amphitheatre, built overlooking the sea.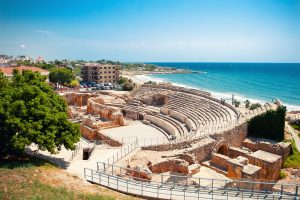 As you enter you can almost see the gladiators fighting lions and christians. Imagine the excitement of chariots and horses zooming past as the Romans cheered them on at the Roman Circus. At the Praetorium you can stand where the roman forum discussed and debated important matters of state and law on a regular basis.
The old roman ruins blend seamlessly into the Medieval and Modernist architecture and out into the interesting city that is Tarragona today. Amble down Rambla Nova to enjoy some fabulous local shops and boutiques or sit and take in the local culture over a drink and some tapas.
Take shade from the blistering summer sun with a visit to Parc Central,  its impressive 120 shops are all under one roof.
If outdoor Markets are more your thing then you will be ecstatic to discover that Tarragona has a different outdoor market every day from Tuesday to Sunday.  Clothing, food or antiques, there is a market day for them all and on Fridays there is a market for all three.
Easy acces to Tarragona
Getting to the city is easy as there are a number of options depending on whether you are coming from the neighbouring city or resorts. From Barcelona city and Josep Tarradellas – El Prat International Airport you can catch a bus or the train. If you are coming from Cambrils, Salou or La Pineda then there is a local bus that operates on a 30 minute schedule.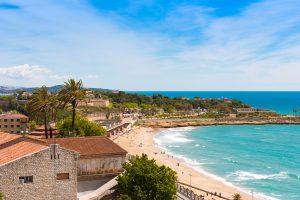 From Cambrils and Salou you can also get the train from local stations though the train service is far less frequent.
There is always plenty to do on holidays in the Costa Dorada no matter what time of the year. From amazing golden beaches, theme parks and entertainment, it's always a fun filled experience. A day out to Tarragona is always a worthwhile trip, be sure you put it top of your holiday to-do list.[/vc_column_text][/vc_column][/vc_row]