Whether you have finished with the abundant delights of Barcelona city or simply have landed at Barcelona–El Prat Josep Tarradellas International Airport you may be wondering how to get from Barcelona to Salou. The good news is that you have a number of different options to choose from.
Bus from Barcelona to Salou
If you fancy yourself a more independent traveller who believes that using public transport in new places gives more of a feel for the area as well as saving money. Then the local bus service is definitely worth using.  
Plana is the company that services the sun resorts of Salou as well as the town of Reus, the city of Tarragona and many of the surrounding areas. During the tourist season they offer services from Barcelona city and Terminals 1 & 2 at Barcelona Josep Tarradellas International Airport.
Tickets for Barcelona Airport to Salou can be purchased in cash from the driver but if you are planning to travel during the busy summer months it's advisable to buy online in advance. Their website is available in a number of different languages. If you are traveling from the city centre you pay in cash when boarding the bus. Bus stops and times are available online in Spanish or the local language Catalan
Train from Barcelona to Salou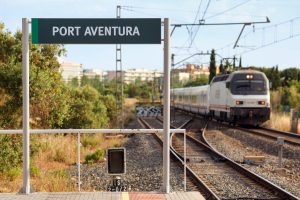 With a route that runs from Barcelona Sants station and almost entirely along the rocky Garraf coastline the Rodalies train service from Barcelona to Salou is a sightseeing must. If you are traveling from Barcelona–El Prat Josep Tarradellas International Airport. Then the train from Terminal 2 connects with Barcelona Sants. You can purchase tickets using cash or card at the ticket machines in the train stations. As an added bonus they have multilingual staff on hand to help you navigate the ticket machines or ticket counters staff to ask for advice.
It's worth checking where your accommodation is in Salou before you purchase your ticket. There is a train station in the old town of Salou while the stop before is for PortAventura theme park. A large percentage of tourist accommodation is located in the new town of Salou. So the Port Aventura stop might be a closer option.
Shared Transfer from Barcelona to Salou
If going it alone is not for you but you are still looking for a cost effective way to get from Barcelona to Salou then a shared transfer may be just the option you are looking for. By simply booking online in advance with a transfer company you can join other travelers who are traveling to Salou around the same time. This way you pay less when you travel together in a coach. This service is very cost effective and though you may have to allow up to 1 hour for other travellers to arrive you get to meet new people and see a bit of the Catalonian countryside as you travel down.
Car pooling
Another cost sharing option is booking with an online carpooling site. These sites connect you with people who are driving their own cars to Salou and are willing to give you a lift in return for a pre-agreed fee. You can select the ride that you like best based on the other travellers feedback on the drivers and their car.
Taxi from Barcelona to Salou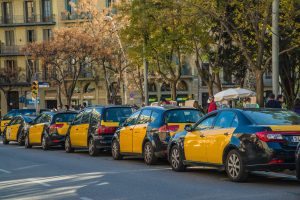 If you really want to travel in style or have an urgent need to get from Barcelona to Salou then a taxi or private transfer are a very convenient though more expensive option.
Official Barcelona taxis are always yellow and black in colour and its always best to agree a price with your driver before you set out as it will take more than an hour by road from the airport and up to 2 hours from the city. There are additional charges for night time, weekends and official holidays so fares can differ depending on when you travel.  
Private Transfer
If you have the option to book a little in advance then a private transfer may be cheaper than just hopping into the first taxi you see. By booking and paying online you will know exactly the cost of your private transfer as well as having someone meet you at your pickup point. All charges are included in the price quoted so no surprises when you arrive at your destination in Salou.